The Best Shampoo and Conditioner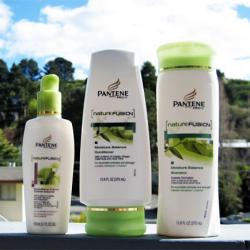 The verdict is in, many of the big magazines do annual tests, research, and polls to find the best of the best products on the market. One that keeps popping up on many of the lists is actually very inexpensive. Deemed as the best shampoo and conditioner for normal hair the shine-boosting Pantene Pro-V NatureFusion Smooth Vitality Shampoo and Conditioner ($3.99 each) smooth frizz and smell fresh. I was skeptical as one who always spent a little more on hair care, and also of the brand Pantene which I previously thought was bad for hair. But my mom went out and bought it because she says she needs all the smoothing help she can get. During a visit to her house I smelled the most amazing sweet and fresh garden smell emanating from her bathroom, like gardenias, grass, and orange blossoms. Well, it was the Pantene...and her hair? It was noticeably smoother and less frizzy. So I tried it for myself, and am quite satisfied.
My hair is pretty processed and needs a weekly treatment for dryness. So I also picked up another magazine recommendation: Matrix Biolage Fortethérapie Intensive Strengthening Masque ($16) and I love it. I have liked all Biolage products I have tried actually.
You can check out all the rest of the 189 lucky products chosen here. From the best dry shampoo to curling products, there is something for every type of hair. But hair is not all they tested, there are categories for makeup, skin care, body care, tools, scent, etc. Yay!