Help Me! The Fountain of Youth Cream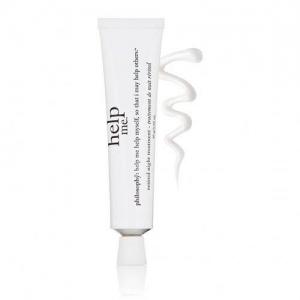 The mega brand for all things delicious like Sugar Cookie shower gel has now come up with Allure Magazine's "Best of Beauty" winner for anti-aging treatment: Philosophy's Help Me Retinol Night Treatment. But it doesn't stop there! This little bottle of miracle cream fights wrinkles of course, but also reduces pores, discoloration, and adds a healthy tone and firmness to that tired dull skin everyone is complaining about.
So what's the secret? It's in the Retinol. Retinol is long known for it's anti-aging benefits but many people couldn't use it due to sensitivity, well they have solved that problem by encapsulating it in little time release orbs that allow your skin to soak up just what it needs and not get overloaded and irritated. Brilliant! This keeps the product's ingredients from going sour and losing potency.
This cream also has other heavy hitters when it comes to anti-aging and reversing environmental damage like Vit-C and E, plus it comes in a little metal tube with keeps the light and heat out and your $45 1.05 oz of magic potion lasting longer. Yipee!
The statistics on this cream are ridiculous, over 2 months here are the percentages:
- 100% of subjects had improvement in fine lines.
- 100% had smoother skin.
- 94% had improvement in wrinkles.
- 88% had firmer skin.
Those are some gooood percentages. So give it a go! We have all tried a million different things, what one more item that might be just what you have been searching for.