Go Nutty with this all purpose oil!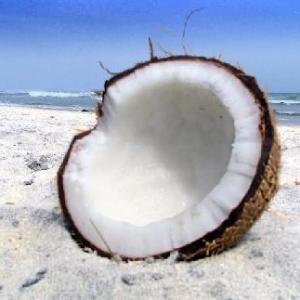 Coconuts are making a comeback in a big way. Coconut water is just about everywhere claiming better hydration and more potassium than regular water or sports drinks. Plus is it pretty delish. But that's not all coconuts are good for. Coconut oil has been used forever in hair, skin and beauty products. It is a natural way to hydrate the skin and keep it soft, smooth and supple.
Just head on over to your local health food store and pick up a jar of organic coconut oil and go nutty! You can use it straight up as an all over body moisturizer (ladies this will also ward away stretch marks!), as an overnight lip treatment, or use a tiny bit on the ends of dry hair.
It really is the all-around-use-for-everything-cure! Did you know that people who started cooking with only coconut oil instead of other oils such as peanut, vegetable or sunflower, actually lost weight? And that's all they changed! Coconut oil is digested differently into the body and can actually increase metabolism.
You can even use it on the face to moisturize and help prevent wrinkles, age spots and uneven tone. Yay for coconuts!