by Christine Wheaton, Sassable staff writer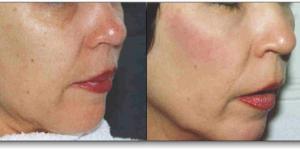 I have definitely heard of permanent makeup mimicking eyeliner, eyebrow pencils, lipliners, and lipstick...but blush? That is something I had to research. Turns out blush tattooing IS available and can look very natural if it is done correctly.
Permanent blush tattoos...sounds scary? It can be! Blush tattooing deserves more consideration then the other procedures simply because many unprofessional and untrained individuals offer this service as it seems easier or less invasive then doing precision brows or liner. However, this must be watched because if blush tattooing is applied by an unskilled person, the result will be very blotchy, uneven, and unnatural. And the kicker is, if you get a blush tattoo procedure that you do not like, it is difficult to remove sometimes causing the pigment to turn black when it comes into contact with the laser-eeeek!
So do your leg work when researching a place to get blush tattoos. Ask to see pictures of their work, talk to some of their clients. The allure is there, it would be nice to always wake up looking bright and fresh like you just took a walk in brisk weather. It is especially convenient for woman who does not go anywhere without "putting on her face" and are extremely busy or a mother who has little time to get ready. And if you are a bit of a wuss when it comes to pain, they use an anesthesia so it becomes more of a "sensation" then a painful feeling.
If you are worried about the color you choose being outdated as the seasons come and go, make sure to pick a more neutral color and not that trendy tangerine hue you saw on the runway. Blush tattooing fades over time anyway (you would probably have to go back every year or so), therefore you are never stuck with one color. Regardless, blush tattoos can be layered with traditional blush to create an updated look from time to time.
Many places offer blush tattooing like nail salons, esthetician clinics, makeup artists, and plastic surgeons. Although you might pay more with prices ranging from $300-$1000, I feel like an esthetician clinic or plastic surgeon is your best bet for a successful outcome. It takes a few days for the swelling to go down and the color to settle so keep that in mind when making your appointment.