Just applying a darker tone at the base of your lashes adds wonderful definition, making lashes look
longer. Eye-liner can be used to enhance your eye shape and when applied correctly give the illusion of longer lashes. So, which type of eye-liner is best?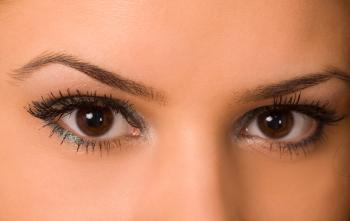 There are four types of eyeliner:

Pencil eye-liner gives the softest finish, easiest to use and you can smudge it. If you can use a pencil you can use a pencil eyeliner.
Cake eye-liner applies wet with a small brush, smudges well when using eye shadow over it. Long lasting tends not to flake like liquid can.
Liquid eye-liner gives the most dramatic look, quick drying, needs a steady hand. Can flake.
Gel eye-liner is used like a liquid or cake product but can be easier to apply, may be applied with a brush and is long lasting.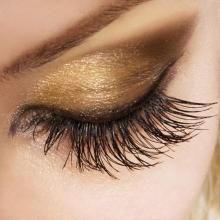 So, what is pencil eyeliner then?

Pencils
Expect a good pencil eye-liner to give a soft finish, without having to press too hard, no drag but easily smudge-able and have good wearing.
For longer wear from your pencil eye liner applied to the base of your eyelashes, cover with a layer of eye shadow, smudged with a small brush.
In warm weather, put your eye-liner pencil in the freezer for a few minutes before sharpening. In colder weather, your pencil may become too hard and can drag leaving an uneven look and being hard on the delicate skin surrounding your eyes. A few seconds under your hairdryer will soften the tip to easier application.
Did you realize that even among pencil eyeliners you have choices? Your basic pharmacy pencil may become hard or flake. Where as a softer pencil may not wear as long. Your more expensive pencil may come with a built-in sponge for smudging, or a sharpener.
Do invest in a good sharpener for your pencil eyeliner.

Your eyeliner should harmonize with your eye shadows, but it doesn't have to match exactly. Even though black eyeliner is the biggest seller and worn by more women overall, it's not a natural look.

Blue eyes? Look for a eye-liner in shades of navy, to bring out the white in your eyes making you look more awake. Violet shade will also work as well.
Brown eyes? Use a dark brown eyeliner bronze to really make your eyes pop!
Green eyes? Try brown, gold or even olive to bring out the green in your eyes!
Off to a party? That's when you can have fun with your eyeliners! Try silver or crazy colors with glitter!
Lasting thoughts about pencil eyeliners. There are some who use eyeliners in the waterline... This is not recommended but if you do, pencils are the easiest to use when applying in the waterline. Lastly, DO NOT SHARE your eyeliner! Germs are Germs!

Based on article by Kim Snyder Owner Overall Beauty online shop for Overall Beauty Minerals eye shadows, BB Couture best selling nail polish, Magic Lash Eye Lash Enhancer, Natural Empathy specialty bath and products from the UK and so much more.