by Christine Wheaton, Sassable staff writer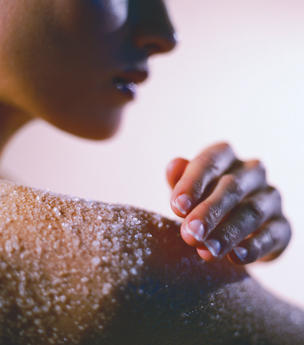 All about body treatments. There are so many things you can do these days to enhance your body. A body treatment is usually done in a spa and is pretty much a facial for your whole body. There is an immense amount of care that goes into your facial skin and sometimes the skin on your body gets over looked. Have you seen those women with a flawless face and then a leathery neck and chest? Well part of that comes from not taking care of the rest of your skin. Your skin is the biggest organ of your body. What you put on your skin gets absorbed into your body. Anything that you wouldn't eat, don't put on your skin. For example, you only eat organic food but then you slather on inexpensive lotion from the drug store, all those chemicals will eventually enter your body.
What is done during a body treatment? There are a number of different combinations that any given spa might do but usually most body treatments start with a body polish or scrub. This exfoliates the skin sloughing off dead dry skin with every pass of the therapist's hands. There can be many different ingredients in a body polish that actually do the polishing. Some popular ones are salt, ground nut shells, coffee grinds, jojoba beads, sugar or grape seeds. All of these will do the job but for me the salt scrub is the most invigorating offering minerals to nourish the skin while it is being scrubbed and leaving the skin with a slight shimmer hence the name "salt glow".
After the body polish the skin will be washed off and moisturized with a luxurious body butter. Many salons and spas offer a package of body treatments where you can get a massage after your body polish or more commonly a body wrap. These come in so many choices, even a chocolate one! When you are done with your body treatment you will not believe how velvety smooth and silky soft your skin is. It is quite amazing and definitely worth it to treat yourself every once in a while.